Concave Mouldings
Prefabricated KORTE Concave Mouldings are the ideal solution for details to ensure a clean floor/wall joint.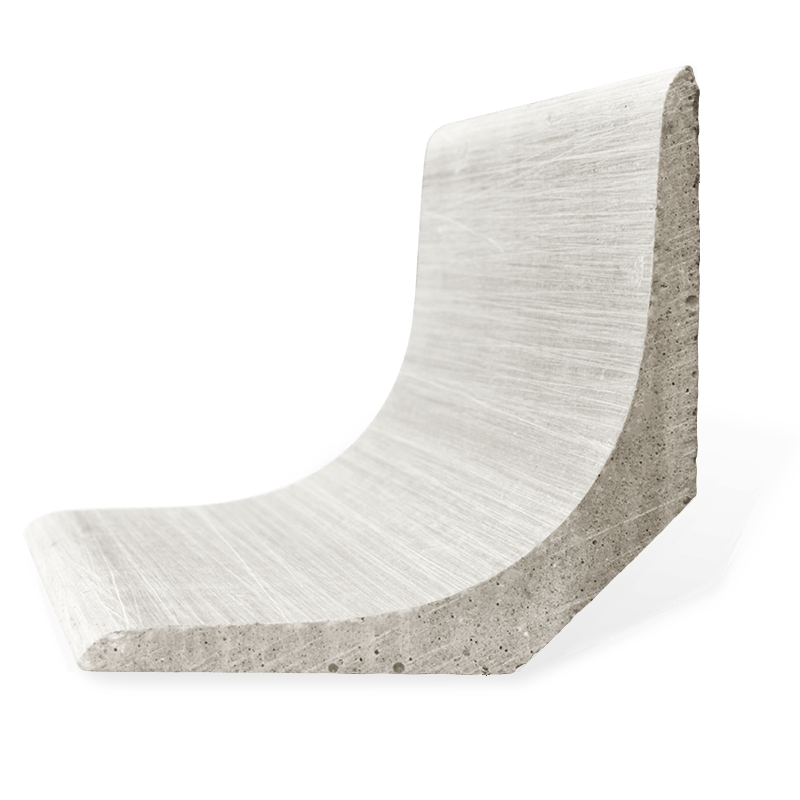 Properties and advantages of KORTE Concave Mouldings
Suitable for floor/wall joints with floor coatings
Can be used wherever hygiene and cleanness are important – e.g. in hospitals, clean rooms, canteen kitchens, food production, etc.
For new buildings and renovations, interiors and exteriors
Industrially produced from polymer resin (UP)
Water-tight, frost- and weather-proof, biocide
Aesthetically pleasing and versatile
Fire class B1 (fire-retardant)
Six types of moulding for an exact fit
Simple handling: glue – prime – coat – done!
Moulding type H30/30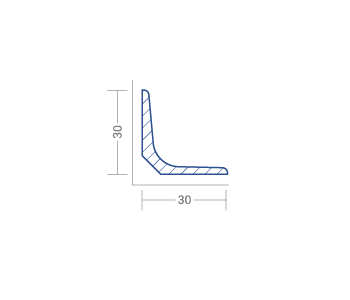 Moulding type H50/25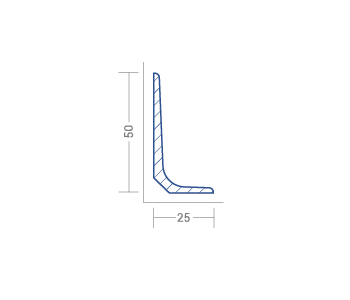 Moulding type H50/50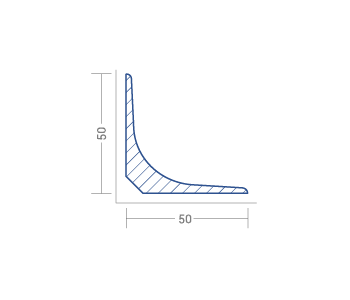 Moulding type H70/50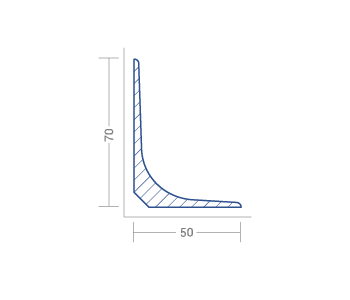 Moulding type H100/50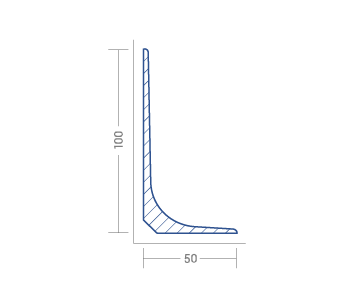 Moulding type H150/40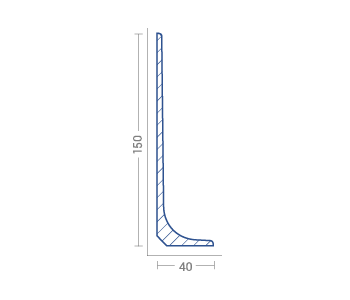 Applications of KORTE Concave Mouldings
Case 1:
Defective seals on balconies, recessed balconies, access balconies, and terraces? What now?
This type of damage to seals often arises due to inadequate planning and workmanship, unsuitable or deficient materials, but also due to climatic influences (temperature differences, precipitation, heat and frost), and chemical loads (acid rain, CO2 emissions). Moreover, mechanical stress such as abrasion from walking or concentrated loads can cause damage to the coating or covering.
This enables moisture to penetrate the components underneath and results in damage to the building structure.
The solution
ndustrially manufactured KORTE Concave Mouldings made of polymer resin are the perfect solution for all floor/wall joints on balconies, terraces, access balconies, etc.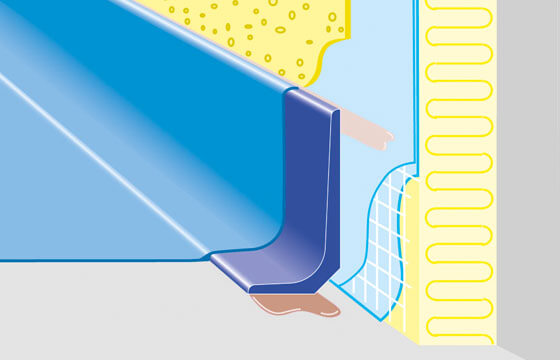 Concave Moulding with external thermal insulation composite system (ETICS)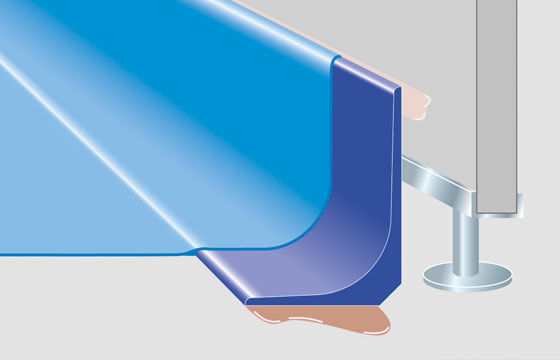 Concave Moulding for dry walling with adjustment screws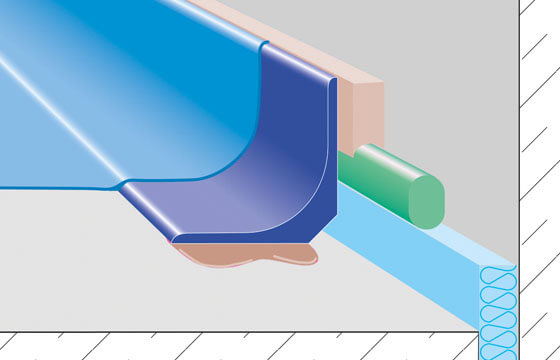 Concave Moulding ('fillet') with gap formed according to DIN 18540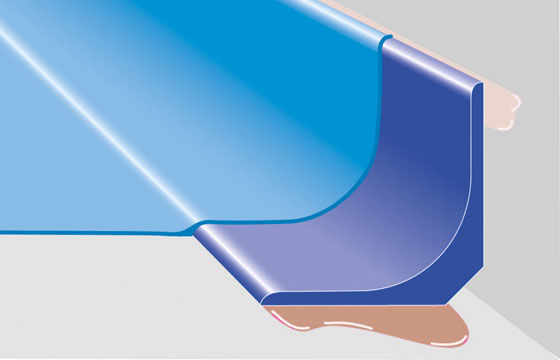 Concave Moulding used for standard applications 2-K EP and 1-K PU
Case 2:
Hygiene and aesthetics
Installation of a Concave Moulding (fillet) without void content between floor and wall is obligatory for hygiene reasons.
The solution
For such cases, KORTE Concave Mouldings made of polymer resin provide a fast, clean and aesthetic solution.
Industrially manufactured KORTE Concave Mouldings can be used in hospitals, clean rooms, laboratories, canteen kitchens, industrial halls (food production), wherever cleanness and hygiene are important.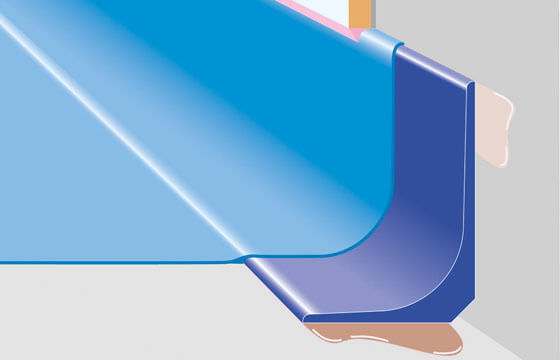 Concave Moulding with transition to tiling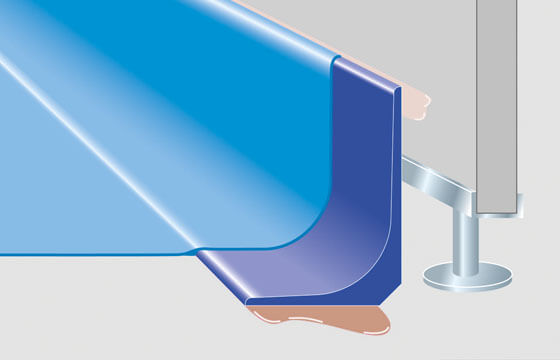 Concave Moulding for dry walling with adjustment screws
Case 3:
Special application on retro-fitted precast balconies
A precast balcony is subsequently fitted. Water runs through the gap between the balcony and the façade onto the balcony below.
This annoys the residents and can dirty the façade.
The solution
A KORTE Spitter is fitted on the façade. A KORTE Concave Moulding (e.g. type H100/50) is fitted to the floor of the balcony.
The Spitter now projects beyond the Concave Moulding. This ensures the water runs off at the 'correct' point and prevents damage.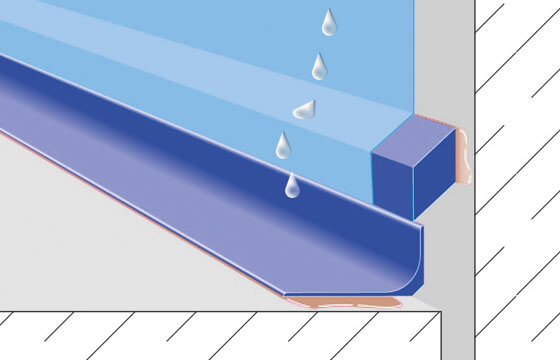 Concave Moulding with Drip Strip type, with pre-cast balcony
Case 4:
Low-cost and time-saving floor/wall joint
To reduce the crack width by 50% in the region of the floor/wall joint, prefabricated KORTE mouldings are a low-cost and time-saving alternative.
The solution
Instead of the usual concave elements, KORTE Drip Strip type T3 can be used as the floor/wall joint if this is aesthetically acceptable.
Drip Strip type T3 is inexpensive, quickly and easily installed and has a small gluing and coating surface. Ideal, for example, for multistorey car parks.
Type T3 rigid is used for straight components and type T3 flexible for curved components.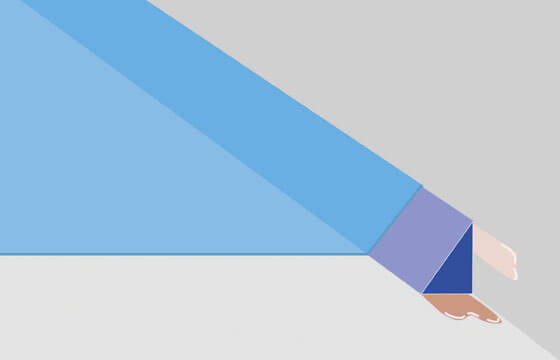 Smallest floor/wall joint with Drip Strip
Information material
If you want to learn more about our products, please download our information material.
Handling KORTE Concave Mouldings
The mouldings are normally glued with 2-component epoxy resin (EP) to provide a shear-resistant connection and avoid cracking between the floor coating and moulding. The join to the rising wall is effected with 1-component polyurethane (PU), if necessary, with a gap formed according to DIN 18540.
The Concave Mouldings are compatible with most common floor coating systems. Please consult our handling guidelines for detailed information.
Sika materials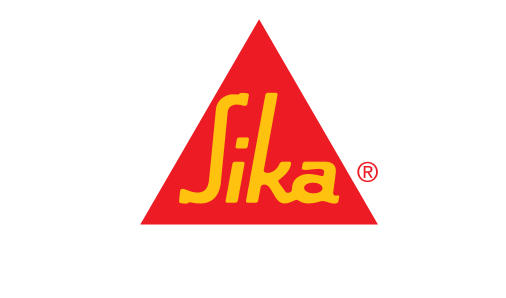 Download Flyer "Sika materials"
Download Flyer "Sika cleanroom"
Caparol materials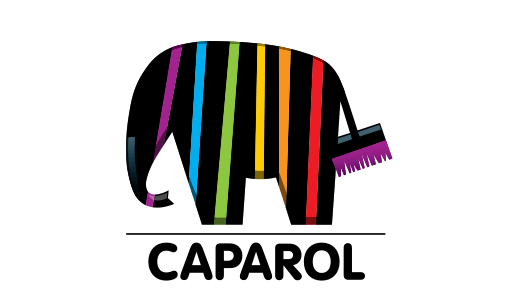 Sto materials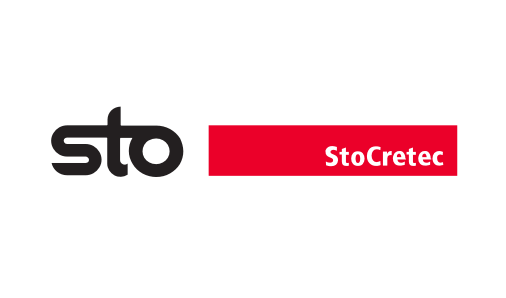 Order
Fill out and sign our order form and send it back to us via Fax. We will process your order and inform you.
Private individuals, please note:
We do not supply private individuals. Please contact your chosen plasterer, building company or local builder's merchant for prices, delivery, etc.